The region of Chodsko
---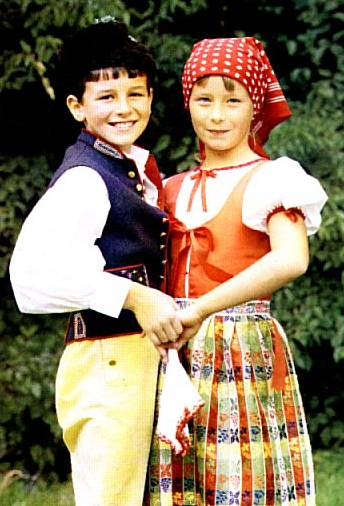 The region of Chodsko, as we know nowadays, is only one part of the original settlement of the western boundary. It used to be the large area extending from Domazlice through Bor and Tachov to Plana. In the southern part of the area there were 11 settlements: Drazenov, Chodov, Klicov, Klenci pod Cerchovem, Chodska Lhota, Mrakov, Pocinovice, Postrekov, Straz, Tlumacov, Ujezd.
Men were supposed to guard the boundary. That´s why the Bohemian kings awarded them with various privileges which brought them an extraordinary rank in a feudal system. The most important right was their personal liberty, they were just royal serfs. Inhabitants of Domazlice obtained 24 privileges in the years 1325-1612 confirming their rights, which were in force until the end of the 17th century. This employment , connected with the danger of an invasion, required fighting power, bravery and determination. They showed these skills during their long history. The villages were rather small. Each had about 50 inhabitants and during the 16th, 17th centuries the region of Domazlice had a population of 320.
Even the village construction was adapted to a guard-duty. The arrangement had to be in a harmony with the defence which was in hands of only a small number of men.
Villages were built either on slopes or on feet of hills in order to have been hidden from enemies. On tops of the hills above villages there were guarding places where signals about imminent danger were given from (e.g. the village Hradek nad Ujezdem with the memorial to John Sladky Kozina).
The villages were made up of single yards which were around a large village green with only two drives, which could be easily blocked and defended. Barns and gardens in the yards were used for defence too. An every attack on this village was often an insurmountable problem for the enemies.
In spite of later reconstructions, nearly all villages in the area of Chodsko have preserved this character.
As for the standard of the region. Historical documents from the year 1543 claim that people of Chodsko were gathering under the standard in which a pair of felt shoes was presented and not a head of dog as we know from a novel by Alois Jirasek. A seal was being used for official activities and sealing documents from the end of the 15th century. Until today, the region of Chodsko has preserved its individual dialect, decorative riches costumes and customs.
---