Horsovsky Tyn
---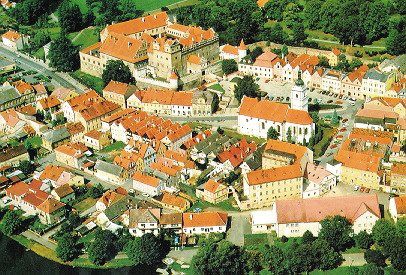 The market settlement was founded on the right wing of the river Radbuza in the 10th century. On the opposite waterside, the archibishop John II. of Drazice founded a Gothic fold in the years 1258-1278. The castle guarded a pathway and became an administrative centre of the episcopal property. The town of Horsovky Tyn arised from at the easter rampart of fortification in the years 1286-1296. The archibishop Ernest of Pardubice awarded it with the right of fortification. The town walls were built thoroughly. It is proved by the fact that during the Hussite disorders the town resisted attacks. In the middle of the 15th century, the castle and the town changed their owner; church was replaced by the Bohemian king. This property was in the possession of lords of Ronsperk until 1539. The king Ferdinand sold the town with the castle to John Popel of Lobkowicz who entirely rebuilt it after the Italian Renaissance Style. The reconstruction was finished by William, the son of John. All his property was confiscated due to his participation in the unsuccessful uprising against the king in 1620. The earl Maxmilian of Trauttmannsdorf acquired the town and his descendants were the owners until the year 1945.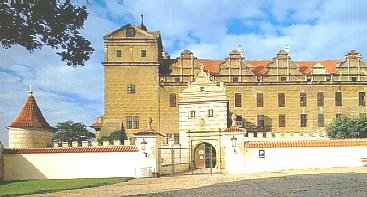 In 1953, the town with many Gothic and Renaissance houses was declared to be, as one of the first towns in Bohemia, a Municipal Monumental Reservation. The Gothic church of St. Apolinar is also worth seeing.
The state chateau of Horsovsky Tyn is one of most visited monuments of Western Bohemia today. The vast majority of the property is open to public. A visitor can see also a Gothic underground. The chateau has been reconstructed since 1964. The rich collections showing a life in the castle and the chateau, including e.g. the chateau kitchen are remarkable too.
---
The environs of Horsovsky Tyn
We can visit a Gothic church in Horsov and other churches in Krakov or in Mirkov.An impressive rang of hills "Sedmihori" (=seven mountains) with lakes is an ideal place for hiking and summer stays near the lake.
---
Best in IE 4.+ - 800x600 Last modified © nola