...siGGis Applet...
static siGGisApplet: join.htm
Join geoObjects with another informations.
Brief description:
All layers were digitized by means of program siGGisLT.
When is applet loaded correctly the Load List window will be hide otherwise stay on screen and can contain Error Info.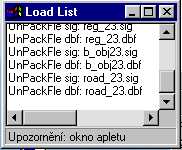 (When is found any Exception or the applet was not start - reload document with applet! ).
The project has two level:
Main map with polygon objects
Select polygon object (yellow outLine) and push button [Next] in database window:
Will be loaded second level corresponds with contain of textLabel: detail information...