The environs of Domazlice
---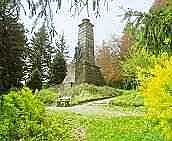 Horsovsky Tyn, Vyhledy nad Klencim with a memorial to J.Š.Baar, a museum of J. S. Baar in Klenci, Hradek u Ujezda with a memorial to John Sladky Kozina and his estate are worth seeing.
After all, traditional customs are perceptible in every village. The hill of Cerchov, the highest point of Cesky les, is also interesting for hiking. This frontier zone was closed to public during communism.
The town of Domazlice is the starting-point of touring paths.
A summer resort "Babylon" is situated 7 kms from Domazlice.
---