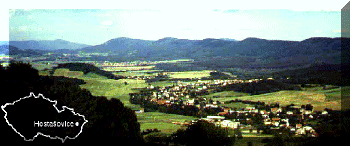 Click on the picture to enlarge it
Brief commune history
Hostasovice village is a beautiful and interesting spot in Kravarsko-region situated in Near-Beskydy Hills. As the most southern part of Novy Jicin district, Hostasovice village form the entrance to Vallachia region.
According to a legend, the foundation of Hostasovice village is dated around 1249. A bird-catcher called Hostasa was a warden of Hradisko fortress that was a property of the Stary Jicin castle and at that time he settled near to the Hrazka creek. A plantation and afterwards a wood-village has been founded that belonged to Stary Jicin manor. In 1749 the trustee of Stary Jicin castle promoted the previous wood-village to the self-dependent commune. Hostasovice obtained the right to use a seal with the sign of crossed dew-rake and flail. The community was living itself till 1978 when it became a part of Novy Jicin town. In 1991 Hostasovice became again to be a self-dependent commune and this conversion enabled its perspicuous development. The school building and the village green was rebuilt, new houses with pleasing design were built. Nowadays the entire village area is equiped with gas main and gas piping, telephone undergroud wiring, new electrification and street lighting, TV cable wiring including a local TV channel. All those achievements upgraded the living quality in our village. At present we would like to upgrade cultural and social living conditions. A part of this our effort is also a comeback to our entity roots. In the year 1999 we celebrated the 750th anniversary of the foundation of Hostasovice village and the 250th jubilee of promotion the wood-village to the self-dependent commune. The celebration was held from Juni 27th to Juli 6th.

Countryside condition s
The whole commune area is a part of the nature park "Pobeskydi".
Acreage : 2284 acres
Intermediate altitude : 1247 ft.(380 m) above sea level
The lowest altitude : 1138 ft.(347 m)
The highest altitude (Pohorelec Hill) : 1808 ft.(551 m)
Water from the area is flowing through streams : Hrazka, Zrzavka (Rusty creek), Bily (White creek), Srni, Siroka

Demography
Permanent residents : 655
Number of family houses : 215
The most popular family names : David, Hub, Horak, Hasalik, Janyska, Plesek (also Pleshek by immigrants to the USA)


LOCAL POINTS OF INTEREST

Buckwheat mills
Since the late 18th century the name Hostasovice have been associating inseparable with the buckwheat growing and milling . The buckwheat is beeing milled to the present day and many people from afar are comming hier to buy it.

Digging of the silver hoard
In 1981 a hole for lime was dug near to the family house No 182. Two ceramic buckets with old coins were found. The whole hoard contained 336 pieces of various silver coins dated from the late 17th century. Nowadays the coins hoard is exhibited in the Silesia museum.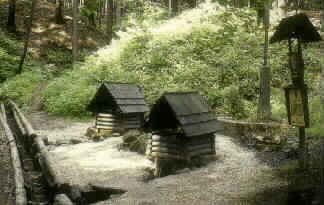 Zrzavka (location and creek as well)
Two springs are situated in distance of two yards only and nevertheless in each of them different strong mineral water is rising. The stronger spring contains iron sulphate which tints water to red (like a rust) color ("Zrzavka" means something like "rusty"). The second spring contains sulphuretted hydrogen with strong typically egg odour. Moreover the third spring containing sulphuretted hydrogen is situared about 100 yards away.



The main Europian watershed
The main continental watershad bisects the community area into two parts. Waters from streams Hrazka, Zrzavka and Bily are flowing through the Odra river into the Baltic sea whereas waters from streams Srni and Siroka are flowing through the Danube river into the Black sea. The barn of No 23 house is known as a unique building - water from each opposite roof side is flowing into different seas.

Bifurcation
A spring called Jasterka and situated on the hillside of Trojacka hill is a curiosity as well. Along a few yeards downstream its streamlet splits into two ones and water from each one of them is flowing into different sea. This interesting geographic phenomenon is called "bifurcation".

Celebration of the 750th anniversary of Hostasovice foundation
The celebration was held from Juni 27th to Juli 6th. Extract of the most interesting points :
> the mass consecrated to the community emblems and flags sanctification was held near the chapel, the celebrant was bishop Lobkowitz (photo)
> the big countrymen meeting on the place and a cortege through the village
> the village fair associated with the open-air mass
> exhibitions "The Community History" and "Blood Sports Corporation"
> big open-air show with renowned artists and bands, the great firework
> the historic fence and arbalest shooting, the fire-brigades contest .... atc.

Photo : The community emblems and flags sanctification, the celebrant was Msgr. F. Lobkowitz, the bishop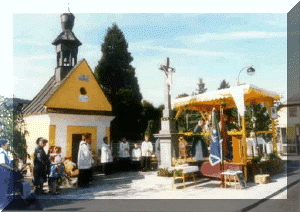 Click on the picture to enlarge it
Additional information about Hostasovice in English Beskydy-Valachia , in Czech Beskydy-Valassko or Travel Atlas or Wikipedia .

Hostasovice Region Map