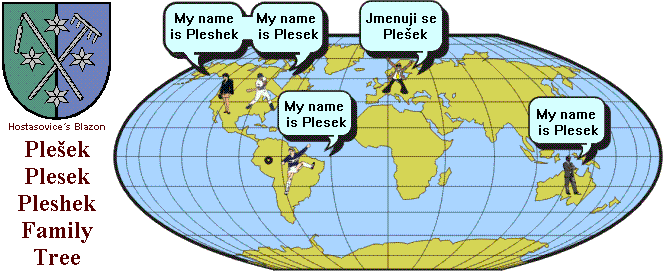 Czech
Is your name Plesek or Pleshek ? Do you know your name origin ?
The interestig family tree of people living in the entire world and descending from the only one ancestor and only one small village called "

" - Czech Republic/Central Europe
Nearly assuredly all

´s, Plesek´s and Pleshek´s all over the world have their roots in Hostasovice.
Briefly About Our Clan Name Origin :
The name

is frequent and endemic in

, with some spreading to the neighboring localities. Note that

is the name of 44 from 655 residents in

.
Associated

/ Plesek / Pleshek Pages :
> Plesek / Pleshek Page containing more details
> About Hostasovice - the Village of our Origin
> The Plesek / Pleshek Family Basic Tree verified from chronicles
> Describing the perilous travels of the first emigrants
> How Plesek´s name is spread within Czech Republic
> PLESAK Story
> How to transcript Czech special characters
> U.S.A. dead flyers memorial in Palacov
> VPŠE Frenštát p.R. 1953-1957 - 2007 - 50 let od maturity - fotky
My contact addresse : m5t.pl5s5k@qui3k.3z (where replace "3" by "c" and "5" by "e")